Hola, amigos y amigas!
I'm practicing the pitiful little amount of Spanish I know because this time next week I'll be in....well, Key West, but the next day we'll be in México hermoso, soleado (sorry, I had to cheat and use a translator for that one).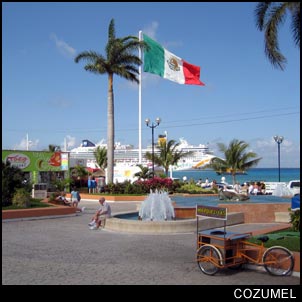 I've been trying to get ready for our trip...my (almost) whole
familia
is going, and *I* am the trip planner. Meaning, *I* am the one to make sure everyone is entertained in the ports.
In Key West, we're going to see Ernest Hemingways' 6-toed cats, have our pictures taken at Southernmost Point, and try frozen-chocolate-covered-key-lime-pie-on-a-stick.
In Cozumel, I had planned for us to spend the day touring some Mayan ruins and some time on the beach, swimming in the clear, beautiful caribbean waters. Sooooo niiiiice.
Anyway, my co-travelers changed their minds and decided they didn't want to do that afterall, so now we're basically back to wandering around the town looking at the tourist shops. Blah. BTDT.
Point being, I've had all that on my mind, (among other stuff this past week), and not my coupon shopping so much lately. So thanks for bearing with me, and hopefully - if judging from past experience - I generally snap back into it after taking a break like this.
In other news, today is my Birthday and me and Johnny's 21st wedding Anniversary.
He got a new Scope for his huntin rifle, and I/we got (4) tickets to
Cirque Dreams: Holidaze
.
Not to be confused with Cirque du Soleil, which I would love to see one day, but the show coming to Atlanta is called
Ovo
, and is about bugs/insects. Thaaaaat didn't sound too interesting to me.
On the other hand, I love, love, love, love, love Christmas Productions. I've even seen the Atlanta Ballet perform
The Nutcracker
, and I could care less about ballet usually.
So this
Cirque Dreams: Holidaze
looked just perfect. I'm excited to see it!
He also gave me a $30.00 Walmart gift card, bu it wasn't actually a prezzie; he'd gotten it as a bonus in his paycheck from the Dr's office. Instead of a turkey, I guess (thank goodness! I just gave away a turkey last week that had been in my freezer for over a year!).
He said I should buy me something I want, but I don't know that I want anything that I'm willing to spend $30.00 on anymore - even a free $30.00! - haha!
I think I'll search up one of the Walmart Deals blogs and see how much I can get cheap using coupons.
Usually I wouldn't coupon shop at WM unless the coupon made the item free, or possibly a couple of cents...nothing like .45 or .67 or .98, though. But with a free $30 gift card, then I guess I could.